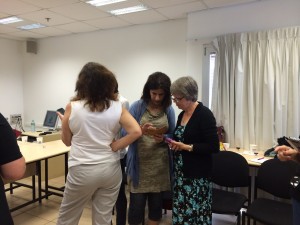 In my new job as Managing Director of Dialog, The Open University Israel, I am keen to ascertain what is the conversation based approach being employed in our school. Is it the communicative approach or a mixture of approaches (eclectic) or is it more akin to PPP?
Having observed a number of classes and teachers it is too early for me to say, however what I can say is that I need to refresh my ELT and LOTE pedagogical knowledge. This is what led me to reading Phillip Chappell's "Engaging learners: conversation-or dialogic-driven pedagogy? (ELT Journal Volume 68/1 January 2014, pp.1-11) The article looked at the conversation that most often takes place in language lessons based upon Dogme principles. According to Chappell the most predominant form of conversation is recitation script which is most akin to classroom talk rather than the desired natural conversation that teachers strive for. However Chappell purports that if teachers record a few lessons and transcribe the conversation taking place, they can reflect upon whether the language is more 'classroom talk' or 'dialogic inquiry' – "those language acts whose purpose is to engage another in one's attempt to understand" (Lindfors, J.W 1999).
Although I myself have always thought my lessons very much reflected the Inquiry dialogue approach, after reading Chappell's analysis of a number of 'typical' language interactions in the ELT classroom, I now believe that too many of the conversations taking place in my classes are more recitative than I would care to admit. Will I find the same in the classes that I am going to observe, and if I do what am I going to do about it?