Our students are constantly asking us: "Will it be on the exam?" "Is there a grade for this?" When the answer is no, the next question is often: What's the point? "So why bother? With this in mind we ran an informal evening event at the ETAI national summer conference in Ashkelon with our panel of experts: Denise Ross Hayne, Penny Ur, Batia Laufer, Amos Paran, Ben Goldstein . Our goal was to pose questions, sourced from the audience via  Todaysmeet, for our expert panel, who were asked to give us good reasons for why we should still  bother being 'creative and demanding ELT teachers' in an age of 'bottle flipping, finger spinners and Google Translate.'
As the convener of the Q & A session I would like to share with you some of my post-event reflections.
Firstly, there was no need for the panel to prepare anything in advance, which enabled them to communicate directly with the audience, and to answer questions spontaneously, on their area of expertise, without investing further time in preparation in contrast to a Pecha Kucha evening (see Pecha Kucha and the Power of (saying) 'Yes').
Secondly, we decided to use Todaysmeet to source questions from the audience, because it is user friendly and has a good visual layout, and meant we did not need a person running around the huge auditorium with a microphone.
Lastly, as the panel members were all experienced conference presenters they understood that the aim of the evening event is to keep things light, fast-paced and informative.
Some tips for those of you who might want to use this format:
Set up the Todaysmeet room in advance, with a demonstration question, for example: 'Why bother coming to ETAI when you could go to the beach instead?'JaneCohenEFL
Create a slide with instructions and a URL address to source great questions, and enable audience participation, as soon as they enter the auditorium.
As the convener, introduce your panel and then go straight to audience questions, otherwise you might expect some feedback like this:"Why bother asking us to write questions if you're not gonna use them? Anonymous. Or: "Why bother asking us for questions when you're using yours?" Anon
In order to keep the Q & A session fast paced, use a timer, and tell the plenary speakers that they have 2 or 3 minutes maximum to answer a given question. Note, I didn't do this but would do next time.
If you want to remember any of the panel's answers record the event, as it is really difficult to host and remember what was said. Again, I didn't do this but definitely will next time as I missed out on so much personal learning.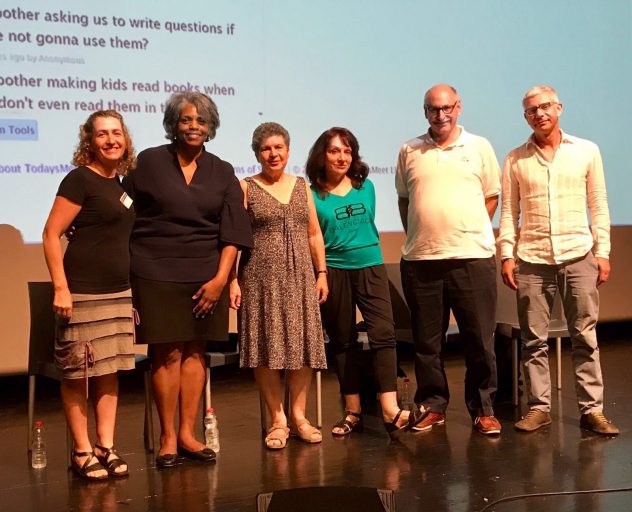 Here is a sample of some of the questions sourced from the audience, and answered by the panel.
Why bother giving our students homework when we know they won't do it anyway?
 Why bother telling my friends how good ETAI conferences are when they never come?
 Why bother trying to build up the school English library when kids don't read books anymore?
 Why bother teaching a 45 minute lesson when students can't stay focused for that long?
 Why bother travelling when we can meet online?
 Why bother teaching Shakespeare when no one speaks that way anymore?
 Why bother looking at research on ESL in the US
 Why bother trying to get pupils to read books, they'll never read enough books to really improve their English.
 Why bother teaching English when they plagiarize and use Google translate and don't understand what's wrong with it?
 Why bother correcting them on present perfect errors when there are more people in the world who use it incorrectly than those who do?
 Why bother teaching vocabulary if the students can use electronic dictionaries?
 Why bother going to IATEFL conferences abroad?
 Why bother spending so much time with grammar when the goal is communication?
 Why bother teaching them literary terms? Why not just deal with the message and the useful vocabulary?
 Why bother using grammar books with gap-fill activities?
 Why bother with spelling tests when our pupils will write e mails and use electronic notebooks in their future?
 Why bother giving written feedback on student drafts when they do not bother correcting their work accordingly?
 Why bother making kids read books when they don't even read them in their own language?