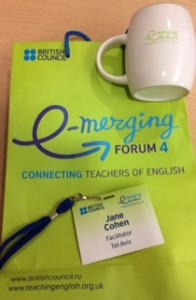 I recently returned from the e-merging forum 4 in Moscow where I had the opportunity to facilitate the Learning Technologies track together with Elena Kazachkova and Nicky Hockly. This was a wonderful professional development opportunity for me as I was able to learn from the local presenters as well as from Nicky, who is both a great presenter and an advocate for incorporating LT into the ELT classroom along with the active teaching of 'Digital Literacies'. In each of the presentations, in the LT track, the themes of engagement, motivation and learner autonomy as enhancing learning outcomes came through very clearly.
In Elena Peresada's talk: 'How to Gamify your English class' we were shown how all students can be motivated to achieve 'Personal Bests' through the use of a game design approach to teaching. Elena explained that XP points (experience points)' a leaderboard and healthy competition are criteria for this approach. It was interesting to see that Elena has flipped the concept of Gamification by applying Online Gamification rules and techniques to traditional learning in her classroom without any computers, to increase student motivation and self-autonomy.
Anna Avramenko's talk: New educational standards, Mobile competence of students and teachers in Russia, referred to the mobile competencies of both teachers and students. Anna highlighted the difference between ICT and MT( mobile technology), and said that many teachers do not yet feel comfortable with MT, despite the fact that this is their students preferred way of learning. Anna explained that with the use of MALA (mobile assisted language assessment) teachers and institutions are able to track progress immediately and effectively. Anna also spoke of PELE, a peer assessment system, and said that students are keen to use online polls in class, as polls provide instant feedback, which students find both motivating and engaging.
Vera Bobkova led an interactive workshop: 'Time savers for Busy Teachers' which gave the audience an opportunity to see that engaging activities can be prepared quickly by using online tools such as a dictionary apps, crossword creators, story cubes and the 'Big Wheel'. Vera's message was, get the students to create the games and tasks wherever possible, because they love it, and their learning is enhanced; and the best of all is that it saves time for busy teachers.
Anna Loseva shared with the audience her use of Social media as a learning opportunity for students. In her talk: 'International student collaboration on Facebook: what it is and what it isn't," Anna explained how she had responded to a single student's request for authentic language practice. Anna set up a FB group in 2011 for 17-23 year olds, and asked teachers to join and bring their students to the closed group. Since then the group has grown to over 500 members from 23 countries. Anna shared the challenges and the successes, and encouraged us all to try this medium for engaging learners by providing authentic language opportunities.
Little pigeons can carry great messages or using online post its in ELT, Anastasia Fetisova shared her 'fetish' for post it notes. Anastasia started off by showing us multiple ways of using physical post its for ice breakers, for spelling words, for writing poems and for labeling the body parts of some willing volunteers in the audience. Anastasia then went on to share with us a multitude of digital tools that offer numerous creative ways of using post its to engage, motivate and stretch our learners, for example, www.scrumblr.ca; www.primarywall.com; www.telescopictext.com; www.telescopictext.org (Creating and expanding sentences); www.noteapp.com
In her talk: Using Wikis to create collaborative teacher student sites, Alexandra Smirnova spoke of the Wiki as a collaborative storeroom, as a tool for organization and collaboration, where everybody can be involved from the teacher, the students to the parents. Alexandra explained that all digital tasks can be stored in the one place on a Wiki, from Vokis, to e-books, to podcasts and videos, which is really useful for everyone to quickly access each other's work. Lastly, Alexandra showed us how we can use hypertext to create web quests.
The Learning Technologies plenary: Digital Literacies, was delivered by Nicky Hockly, who so skillfully convinced us all of the existence of the endangered species; The Pacific North West Tree Octopus, which surprisingly enough does not exist, in order to demonstrate how our students tend to assume anything that is published on the web must be authentic. Nicky showed us the importance of evaluating websites and how to do it and emphasized four areas that need to be focused on: Information; Language; Connections and Redesign. After she presented the theoretical background to integrating Digital Literacies in the ELT classrooms, Hockly share some great activities with the audience using Remix and Literal Videos. Check out: goo.gl/Ut7Yru and youtu.be/MahTKZDHXaA. Catch an interview with Nicky Hockly after she gave her plenary for more information.
For my video summary of the entire conference you can catch me on the TeachingEnglish website. Now I can't wait for e-merging forum 5.